Disclaimer: This post contains some blatant Mummy bragging.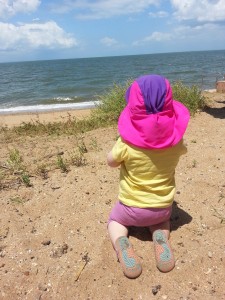 Miss A is almost 2. I can't believe how fast the time has gone. She has developed from a chubby little blob who ate, cried (a lot) and slept (well sometimes) to a walking talking little person with a determined mind of her own.
Her development has always fascinated me. I remember being enthralled as I watched her reach up to intentionally touch a toy hanging from her play mat, opposed to the unintentional touch from flailing her arms around.
Watching her develop physically from lying to sitting, rolling, crawling, knee-walking (an unusual intermediate step), climbing, walking, running and jumping has been a fun, and sometimes nail-biting experience. It has been said on numerous occasions by many different people that she has no fear, and she doesn't, regularly tackling the highest of slides at playgrounds everywhere.
As a side note, I do not know where this comes from. I don't recall being particularly adventurous as a child. Mr A certainly wasn't, preferring to follow a slightly younger more adventurous female neighbour around like a lost puppy.
But most of all, it has been Miss A's intellectual and mental development that has fascinated and amazed me the most.
She can count to 10. Sing the alphabet song. Sing other songs and nursery rhymes. Remember lines from her favourite books. Identify a wide range of animals from pictures, the TV etc. Makes proper pig oinking snorts. Can make clip clop horse noises. Does a good fake snore sound. She regularly speaks in 2 or 3 word phrases and she can understand and follow instructions e.g. pick up your clothes and put them in your dirty clothes basket.
Is she supposed to be able to do this stuff before she is two? I don't know? Even though I have been around children of friends and family in recent years I haven't really paid that much attention to their developmental milestones. Is Miss A smart? Her day care teachers have said so. But most importantly she just amazes the heck out of me.
But regardless of this she is still just a toddler and does normal toddler things. The other night she chucked a tantrum because Mr A told her she couldn't eat uncooked pasta. She has no road safety sense and will run out onto roads without a moments thought. She flings herself onto people without a thought to where her arms, legs, head or body go (sometimes causing unintentional but immense pain).
Thankfully the joy and amazement she brings outweighs those behaviours I can't wait for her to grow out of.